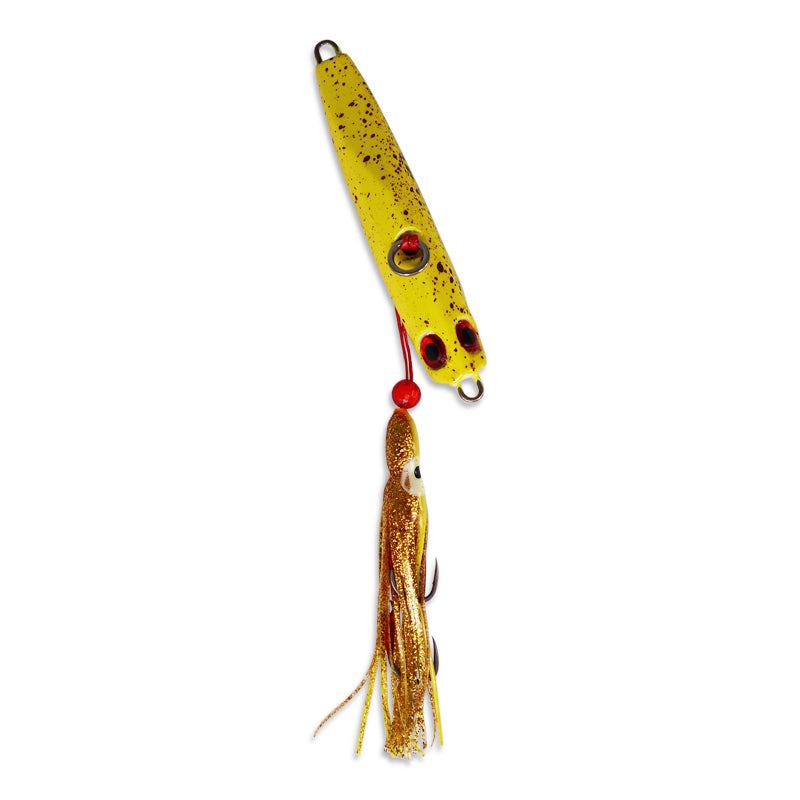 OA Jitterbugs cemented their place in most keen anglers' arsenals many years ago, and after all this time some of us firmly believe they still can't be beaten!.
Other features:  
A long, slim shape sees them get down deep efficiently.
Super-deadly UV and luminous coatings.
Hand-bound assist-rigged squid that wafts around enticingly.
Japanese made Owner hooks.
Weights: 20g, 40g, 60g, 80g, 100g and 130g.
Colours: Blue Silver, Orange Gold, Pink White and Bruised Banana.
Associated product: Twin packs of replacement Jitterbug assist rigs (two sizes: 2.5 and 3), a Tackle Packer to store the lures, and use Pink Ghost Fluoro trace.
On-the-water tips: Tie your Jitterbug on with a couple of metres of 20-30lb Pink Ghost fluorocarbon leader. Although Jitterbugs can catch fish when knotted on at either end, they work better when tied at the slim end, so the assist rig hangs nicely down within the slot designed to accommodate it. Jitterbugs work well when slowly wound upwards for a few metres, accompanied by slow rod lifts and drops throughout. However, same as most of our lures, sometimes you only need to engage the reel upon hitting the bottom to find a good fish already hooked!  If your Jitterbug's weight is marginal for the conditions, lob the lure well ahead of the drifting boat so it gets down earlier and more time is spent working it vertically below the boat, where it works best.  However, some of the biggest snapper get caught on Jitterbugs left dangling just up off the bottom, the rod in the rod holder and the reel's drag eased back a bit!.

International shipping:
$0-$499 = $25
$500+ = FREE!
Oversized products (Rods):
$60
Shipping prices are in NZD and covers Australia, United States, United Kingdom, Gibraltor, Germany and Denmark. Please contact admin@oceanangler.co.nz for shipping quotes outside these areas.