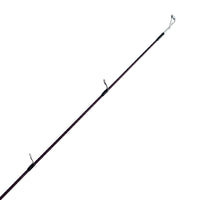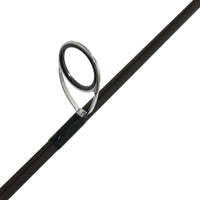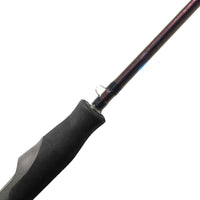 Don't be fooled by the Micro Jig rod's spindly appearance: this surprisingly gutsy little rod can dominate those (sometimes annoying!) oceanic kahawai; provide you with plenty of great snapper catching fun, and even overcome medium-sized kingies - that's probably why it's Paul Senior's favourite rod! Light in weight and action, this little ripper is designed to fish a variety of Ocean Angler lures - the Weasels and Knife Jigs especially - and it does to perfection.
Other features:
Good quality Seaguides (or American Tackle).
A well-positioned and super-comfy reel-seat and fore-grip combination.
An unobtrusive hook holder. Specs: Length, 1.82m; maximum lure weight 180g; recommended line weights, PE 1-2 lines (10-20lb), but may even take up to PE 3.
Associated products: Most Ocean Angler lures, but Weasels, Knife Jigs, and Jitterbugs in particular; Z-Man soft-plastics; OA Rod Protector.
On-the-water tips: The Ocean Angler Micro Jig is the closest we have to an 'all round rod', as it can fish all Ocean Angler's metal jigs reasonably well, and also caters for anglers who like to drag Z-Man soft-plastics along the bottom while drifting. The modest length makes the Micro Jig rod very appealing to anglers fishing from restricted-space vessels such as jet-skis, kayaks and yachts, while also offering some reasonable casting capabilities. Fishers can therefore lob lures up ahead of the boat's drift direction to increase the length of time their lure spends vertically beneath the boat - the area that many jigs tend to work best (with the exception of soft-baits and Sliders, which don't mind a modest amount of line angle).
International shipping:
$0-$499 = $25
$500+ = FREE!
Oversized products (Rods):
$60
Shipping prices are in NZD and covers Australia, United States, United Kingdom, Gibraltor, Germany and Denmark. Please contact admin@oceanangler.co.nz for shipping quotes outside these areas.